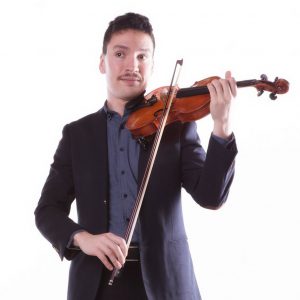 My name is Tristan and I grew up in Brisbane, Australia. When I was young, my parents brought me to a music school in West End called the Stoliarsky School of Music. Based on the corner of Dornoch Terrace and Doris Street, this school was where I first developed an understanding of the fundamentals of music.
One day at one of the school's concerts, I found myself entranced by a violin performance that rocked me to my core. There was something about this instrument, something about the composition that I had just heard, that just seemed so right that I knew at that point that I wanted to become a violinist.
It was at that point when my parents organized to introduce me to violinist Emin Tagiev who agreed to take me on as his student. My parents would take me to Stoliarsky one afternoon a week to have my violin and piano lessons and on Saturday mornings to attend group music theory classes and small ensemble groups. At that age it was as much about seeing my friends as it was about how much fun it was to play music.
Around 1999 the Stoliarsky school was going through financial hardship and Emin decided it would be best to separate from the school. A number of his previous students followed him but there was something in the regular community engagement we all had there that disappeared. Emin's solution was to start a small ensemble group that kept us coming together on Saturdays to make music again – the Tagiev Chamber Orchestra.
For ten years as a member of this group we performed not only in venues around Brisbane, but also in internationally recognized venues such as the Sydney Opera House and Carnegie Hall. The Tagiev Chamber Orchestra travelled to many countries while I was involved with it, with performances in Finland, Germany, Spain, Estonia, China, and the USA.
The only subjects in high school that held my fascination were art and music, and outside of school I was a violinist, so naturally in grade ten I started aiming to enter the preparatory program at the Queensland Conservatorium Griffith University. During that degree I studied with Ms Michele Walsh and strove to absorb as much as I could, and soon I found myself holding a Bachelor of Music. But it did not quench my thirst and I proceeded to look for more avenues for developing my skills and experiences.
Someone had told me about about a development program music camp run by the University of Tasmania called AISOI, or the Australian International Symphony Orchestra Institute. After attending for the first time, I found myself signing up to complete another degree, with the help of a scholarship from the University of Tasmania, to study with Professor Jun Yi Ma and Mr Jeremy Williams. With both a Graduate Certificate in Music (Orchestral) and a Graduate Diploma of Professional Music Practice in hand, I found myself launched to another side of the world – Norman, Oklahoma – where I was offered graduate assistantship with the University of Oklahoma's Crouse String Quartet.
Between 2013 and 2015 I studied with Dr Gregory Lee and performed with the Crouse String Quartet, teaching non-music majors on the side. Some unforgettable opportunities presented themselves to me during this time, such as performing with the Oklahoma City Philharmonic. In 2015 the University of Oklahoma awarded me a Master of Music, and just before leaving I had to start looking for work – I didn't care where, just somewhere that would allow me to grow as a musician. After auditioning in a number of cities for an orchestral job, and shortly before finishing my degree, the Teatro Municipal de Santiago, Chile invited me to commence working as their Assistant Concertmaster. After this irreplaceable opportunity to experience working full time in a theater orchestra performing operas, ballets, and orchestral works, I decided to come back to Australia to be closer to my friends and family, and focus on sharing my skills and experiences.
Last updated September 18, 2017